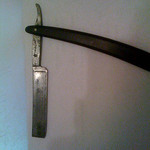 A straight-edge razor is a valuable blade for men who want smooth faces, but they may not know which ones to buy. Believe it or not, old vintage models are the very best models of these shavers.
Although most people wouldn't bother with old relics, most straight-edge razors generally last much longer than convention razors.
There are many reasons why people should look into buying a straight razor. The shavers help men cut the hairs more closely to the skin. The fresh feeling of the shave comes from the position of the blade. Hoe-shaped disposable razors typically require people to apply pressure on the handle. This often keeps the blade from gliding as easily across the skin.
Straight-edge models, on the other hand, shave with a larger blade along the side of the face. This is a much smoother operation, because it keeps users from nicking themselves from applying too much pressure.
People often debate whether they should really spend a lifetime hunting for a vintage straight-edge from the early 1900s. They really don't need to go to the trouble to hunt for such a rare artifact. Most people can easily settle with a standard Dovo razor from amazon.com. The least expensive razor models typically cost only $20 to $30. [click to continue…]