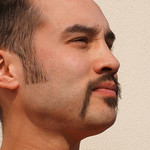 Facial hair removers with springs seem to keep popping up on the market. Two companies, Bellabe and Epicare, claim that they are the original facial hair removers
Regardless of which came first, spring hair removers are illogical tools for people with too much time on their hands
To be fair, spring hair removers are unique. They certainly can remove the small facial hairs on a woman. It works reasonably well for a woman who grows an embarrassing mustache on her upper lip.
The hair removal procedure is simple. Women simply bend the pencil-shaped string into a U-shape on the lower lip. They then rotate the spring, so that the coils can uproot the hair when they slip in-between each coil.
Most coiled springs only cost about $10 to $20. It is difficult to find in the average beauty store, but it certainly won't empty a woman's wallet. In spite of this, the coiled spring probably will never become the most revolutionary hair removal device ever created. Women may not even care to keep such a thing for a long time, because it is almost too unconventional for the average person to use.
For starters, the spring isn't completely reliable. The tool will pick up plenty of the hairs, but some women feel that it is too painful to use. An epilator or a shaver removes the hair more effectively, because it doesn't require physical force to yank the hair out with a spring.
The spring is also hard to clean out. The instructions that come with Bellabe caution the user from washing it underneath a sink faucet. Perhaps the manufacturers were concerned that the spring would eventually turn rusty. However, women may not want to reuse a spring with greasy hair all over its coils unless they wash it under running water.
Not too many people will need the facial hair remover spring in the first pace. Most women don't grow especially thick mustache hair, so only women with facial hair growth problems will bother to pick it up. The few who actually pick it up to remove the tiny fuzz hairs on the upper lip may end up disappointed. After all, Bellabe and Epicare claim that they are both the original facial hair removal tool. The spring is definitely not the most accurate tool–it doesn't pick up every hair on the upper lip.
Women who need a helpful facial hair remover should probably consider other hair removal methods. As attractive as a spring might look, there are plenty of alternatives. Hair removal creams and gels are smelly, but efficient lotions to remove the hair root. Many big companies, such as Olay, have released their own original hair removal creams.
Epicare and Bellabe may tout their devices as exceptional uprooters, but there are much better ways to remove facial hair. As original as springs may appear, shavers and epilators are tried-and-true tools used by many women and men. Trendy new tools appear on the market all the time, but very few of them last the test of time. The spring is not one of them.