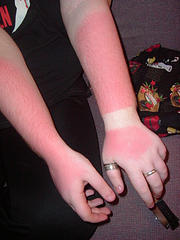 While most people who are in good health can be treated with laser hair removal, there are definitely a few contraindications, simply meaning when laser hair removal is not advisable. The list of contraindications for laser hair removal will wary from clinic to clinic, but there are many common ones to be aware of.
Many different types of antibiotics can make the skin more sensitive and prone to damage. This is why most laser hair removal clinics will advise their clients not to take any antibiotics at least two weeks prior to treatment. This means that someone who is taking antibiotics would need to schedule their laser hair removal appointment approximately two weeks after the medication is finished. The use of antibiotics also indicates that there is an illness, which would make it wise to wait with laser hair removal treatments until the client is in better health.
Any kind of beauty products containing Retin-A, retinol, Hydroquinone, glycolic acid, benzoyl peroxide, bleach, astringent or salicylic acid would need to be discontinued prior to laser hair removal. Acne medications such as Proactive are included in this group, and skin treatments, such as chemical peels, also need to be avoided. These types of products and treatments can contribute to photosensitivity, making the skin more sensitive to light and more prone to irritation.
Sun burnt skin cannot be treated, because the skin is simply too irritated as it is, and laser hair removal is likely to further irritate the skin. This means that someone considering laser hair removal would need to avoid the sun prior to the first laser session and in between following sessions. Someone who knows they will be out in the sun can protect their skin by using a sunscreen lotion with a high SPF.
Using any kind of self tanners, including lotions, sprays and towelettes also need to be discontinued two weeks before a laser hair removal treatment. Someone who has used these types of products can help removing all traces by using an exfoliating scrub. Altering the skin tone in any way will complicate laser hair removal and sometimes make treatments inadvisable.
Waxing and plucking of the hairs is also a strong contraindication for laser hair removal and needs to be avoided about one month prior to your first treatment, and throughout the course of treatments. Waxing and plucking removes the hair follicle from the root and makes laser hair removal inefficient. In addition, use of hair bleaching products also needs to be avoided, as these types of products are strong and can irritate the skin.
In addition to the aforementioned contraindications, it also often recommended not to wear any makeup, perfume or lotion in the treatment area prior to a laser hair removal session, just to avoid further irritation. Before undergoing laser hair removal, be sure to inform the practitioner of any antibiotics or medications you are taking, so that they can schedule your laser hair removal sessions accordingly.
Image credit