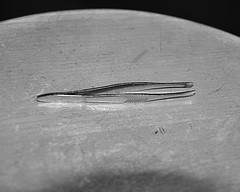 Some facial hair can is to be expected, like the hair that forms our eyebrows and gives us our facial structure. But unwanted facial hair can be very unappealing, or in other words, extremely unpleasant, and the desire to find a suitable hair removal method can be strong, to say the least. Women are more likely to suffer from unwanted hair on the face, but men can also have this condition. Women can have excess hair around the eyebrows, side burns, upper lip and chin, while men sometimes have a unibrow (excess hair between the eyebrows which makes it look like one eyebrow) and too much hair on the cheeks. Luckily, there are several ways in which this type of hair can be removed: tweezing and laser hair removal are two often used methods.
Tweezing (also called plucking) unwanted facial hair is a traditional method that has been around for many decades — perhaps even centuries. Tweezing is fairly straightforward, as all that is needed is a good tweezer (all tweezers are not the same!). Some tweezers are simply designed much better than others and do a more precise job in grabbing the hair while avoiding pinching the skin. A good tweezer should be able to remove even the smallest, lightest and thinnest of hairs. Hair that has been removed by tweezer can be expected to grow back in a couple of days, because facial hair grows back faster than body hair. By far the biggest advantages to tweezing are that it is free (once the tweezer has been purchased), and it can be done anywhere. The biggest disadvantage would be that it can sometimes cause discomfort (especially on the upper lip) and can be time consuming, depending on how much hair needs to be removed.
But newer hair removal methods, such as laser treatments, are also available to remove unwanted facial hairs. Laser hair removal will require a larger commitment than tweezing for several reasons. First, even though there are laser devices that one can use at home, many people still prefer to go to a clinic to get it done. Even some experts have stated that professional laser hair removal treatments are more potent. Also, a single laser treatment will never be enough and this is because hair grows in three different stages. Sometimes, even more than three sessions will be needed. This ultimately means that a laser hair removal client will need to devote time and money to remove hair. In addition, lifelong results cannot be guaranteed (even though results can last for months or years) and there is a small risk that hairs can grow back faster than anticipated. That being said, some laser hair removal clients are passionate about this treatment, because it keeps hairs away longer than both tweezing and waxing.
Image credit