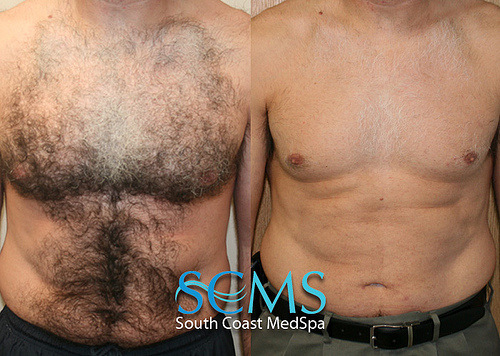 Unwanted hair can be vanished with a variety of hair removal methods. Laser hair removal is a popular method of permanently removing hair in nearly all areas of the face and body, including the upper lip, cheeks, shoulders, chest, back, stomach, arms, hands, legs, bikini line and intimate areas.
With today's technology, it is possible to treat all hair types, even blonde hair, which has previously been difficult to treat.
It is important to book a laser hair removal consultation; this is when the specialist will be able to answer all your questions.  A consultation is often free and a great opportunity to gather as much information as possible. The price involved is determined by different factors, such as the amount of hair and how many areas are being treated. During this consultation you can get an idea of how much the laser treatments will cost, and also, if there are any financing options available.
There are a few things to keep in mind, and one is not to shave the hair you want gone before your consultation, as the specialist will need to make an assessment of the hair structure, color and density. No tanning of any kind, 2 weeks before and after a treatment is also recommended.
The specialist will apply a thin layer of gel on the skin, and will then move a laser handset over the surface to be treated. A strong light pulse will destroy the follicle without damaging the skin.  The follicle will no longer be able to grow any hair. Some clinics have special "cooling" equipment which will make the treatment nearly pain free. However, at the same time the light pulse goes off, you'll feel a little sting on your skin. Your eyes are protected by special goggles.
A treatment can take anywhere from 20 minutes to a few hours depending on the size of area to be treated.
Pain is experienced differently, but in general, the treatment is not painful. Those who are especially sensitive will appreciate the cooling process of the skin.
The interval between two treatments is between 4-8 weeks depending on where on the body treatment is performed.
Some medicines, such as antibiotics, should not be taken in connection with treatment as they may cause skin irritation.
The number of treatments needed varies, but between 6-8 treatments is an average number. In some cases when the customer has very blond hair, additional treatments will be necessary.
About ten days after treatment, you will begin to see the hairs falling out. Resting hair follicles are not affected, and a few months later, a new treatment will be needed.
Laser hair removal has been tested over many years and is proven to be completely safe and without side effects. Any redness of the skin will disappear within a few hours.
Though some patience might be required, laser hair removal is a great option for removing unwanted hair, not just temporarily, but for good.
Photo via Southcoastmedspa2010