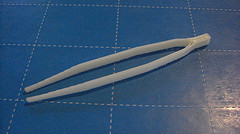 Many women like to pluck their eyebrows to make their eyes look vibrant. Although most of them probably cannot pluck their brows like the salon experts, practice makes perfect.
Plenty of tools are available for women to perfect their eyebrow-plucking skills without breaking the bank.
The most common items for shaping eyebrows include the tweezers and the eyeliner/eyebrow pencil. Plucking eyebrows with the tweezers could become very time consuming. However, many women find that the resulting eyebrow line looks cleaner and much more elegant.
Some people may want to uproot as much hair as possible with tweezers. Unfortunately, this can often many the brows look messy and uneven. If a woman puts makeup and cosmetics on first, the tweezers could slip when they try to pull out hairs.
Thus, it is important for women to wash their face with warm water first, to remove any grease or dirt that could be on the skin. This helps to moisturize and soften the pores of the skin, so that the tweezers can pull hair out of the follicles more easily.
Second, plan out a tweezing strategy. Don't just yank out as much hair as possible. Use an eyebrow or eyeliner pencil to mark the inside boundaries of where the brows should be. Although some women may not know the proper shape for their face, there are a few guidelines over the Internet.
For example, some websites have broken up the shape of the face into different categories. Eyebrows.com has an entire set of images to break up faces into six groups. These groups include the oval, the round face, the long face, the square, the heart and the diamond face shape.
These are only small guidelines to guide women to decide the best brow, though. Ultimately, people can shape the brows in a variety of fashions, based on the thickness and curve of their lines. Drastic changes could tend to look out of place, so it is best for the individual to decide which line shape would fit best for them
Some cosmetics stores provide stencils to provide an ideal eyebrow shape. Certainly not every stencil will work for everyone, because of the widely varying shape of each individual's eyebrow. Each one can help women come up with new ways to envision themselves. The prices of stencils can range from $4 to $20, depending on whether people purchase them individually or in packets of multiple stencils.
There are also other ways to remove eyebrow hair, but some methods can become somewhat unwieldy. For instance, women can wax off the hair with various types of waxing kits. This type of method removes a greater amount of facial hair, but it is more expensive to pull off with at-home kits. The irritating pain of waxing is also a bit hard to adjust to, especially when people wax the face.
Technically, stencils and waxes are just minor tools that women can use for their face. In most cases, an ordinary tweezer can do the job without too much pain or trouble. Overall, women shouldn't try to over-think about the best type of eyebrow. Have fun with the face and practice with the tweezers. They are helpful for shaping and removing eyebrow hair without any big problems.