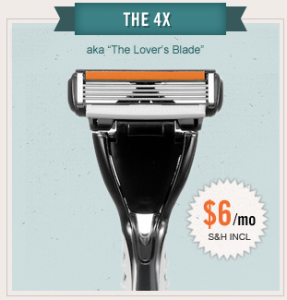 Very few shaving companies have ever created a viral ad aired by many major news networks. The Dollar Shave Club did just that, with a mail order deal that could blow every man's socks off.
However, the online club could put a dent in people's budget with deals that are too good to be true.
The company is a delivery service that operates very similarly to Netflix. The Dollar Shave Club offers three monthly payment plans on its website, dollarshaveclub.com. The most attractive plan, the 4x, includes a four-blade razor. Although these tools are easy to buy in a store, many of these retail brands have expensive replacement blades. In contrast to this, the Dollar Shave Club mails the shaver and four cartridges to a person's house every month for only $6 per month.
The Dollar Shave Club claims itself as the perfect online alternative. According to its YouTube video, it offers low cost razors that are f***ing great. From what every other customer has said, this seems like an excellent deal that no man could possibly resist.
In spite of its claims, the 4x monthly deal could easily become a big ripoff in the long run. Let's assume that someone stayed on the monthly plan for three years. In that time, this customer will have paid a total of $216 to receive about 144 cartridges. This means that the person has paid $1.50 for every cartridge he received.
All in all, this is a decent deal if the person actually needs to change the blade once every week. Although this might seem like a great bargain, many customers often find themselves using the same razor cartridge for at least two or three weeks before they need to change it. After a certain point, they will undoubtably hold more blades than they will ever need.
The plan could force people to pay more money than they ever wanted to pay for a mail service delivery of shaver supplies. For anyone who is willing to do the math, the most expensive retail razor packet on amazon.com is for a Gillette ProGlide, which uses four blades in each cartridge. Each package on amazon.com costs about $10 for four cartridges. This costs about $2.50 per cartridge.
Technically, the Dollar Shave Club offers the better deal. Unfortunately, it is only a good deal if customers switch cartridges every week. Most users probably will not need to change the blade for about two to three weeks. Thus, they will end up stockpiling more cartridges than they ever need to use. They will also end up paying for them every month, even if they don't care to use them.
Thus, unless a person is a big razor junkie, don't count on joining the Dollar Shave Club. Besides, people typically reuse their shaver regularly. Most of them wouldn't bother to change the blade every week unless their hair is exceptionally thick.
If anyone joins, then that person should stick with lowest price package. For only $3 a month, the club can send the customer a stainless steel, twin-blade razor with five cartridges. As a monthly price breakdown, this calculates to about $1 for the shaver with the cartridges and $2 for shipping and handling.
This is the safest of the three plans, because the consumer receives a high-quality steel shaver. This product is much more durable than the average disposable razor. The customer also pays only 60 cents per replacement cartridge, which isn't a bad price to pay for such a well-designed tool
Most men probably shouldn't upgrade to the 4x blade, unless they are shaving addicts. After all, this is a Dollar Shave Club. If the person isn't a huge fan of sharp face shavers, they probably wouldn't care about such a club anyhow. It has gained a sizable niche fan base, though. Overall, the Dollar Shave Club is only for men who desperately need a clean-cut face every single day of their lives.