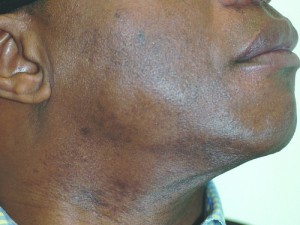 The final goal in laser hair removal is to permanently reduce hair, but in order to achieve that goal several laser hair removal sessions are needed. Between treatments, there can still be plenty of visible hair, and this in between period can be quite uncomfortable. Between laser hair removal sessions, which are usually spaced 6-8 weeks apart, clients might look for ways to remove the hair that is still there, but there is only one way in which this hair can be removed, and there is an explanation why.
After a laser hair removal session, hairs will typically shed and the treated area will be hair free for a couple of weeks, until it is time for the untreated hairs to grow. During this period it might be tempting to wax or pluck these hairs, but there is strong reason not to. Once the laser hair removal sessions has started, most clinics will advise their clients to only shave between sessions. During shaving, only the hair on the surface is removed and the hair root remains intact. The light from the laser hair removal device is attracted to melanin, and the hair has melanin in it. The heat energy from the laser will target the melanin and thereby destroy the hair follicle. This is why in order for laser hair removal to be effective, at least the hair root needs to be there.
Removing the entire hair follicle, which will occur with waxing or plucking, means that the target for the laser, which is color, also called melanin, is no longer present in the skin. This is why waxing or plucking during laser hair removal treatments will lead to poor results. While clients certainly can shave in between sessions, they are not obligated to do so. However, some practitioners will ask that the client shaves the area to be treated right before a session, while other practitioners want to see exactly where the hair is growing before they shave it off themselves.
In other words, when you begin your laser hair removal treatments it is important that you only shave. You only want to shave because it will not affect the hair follicle and allow the laser treatment to be efficient. Using other hair removal methods such as plucking or waxing, will pull the hair from the root and not allow the laser to target the hair properly. It is important to remember not to pluck, wax or remove the hair in any other way than shaving.
Patience is needed between laser hair removal sessions, but will most likely pay off in form of smooth, hair free skin. While shaving between treatments might be an inconvenience to some, good thing about the first laser sessions is that the hair will take longer to grow back, be less and often thinner as well. Overtime, you probably won't need to shave at all, let alone use any other form of hair removal.