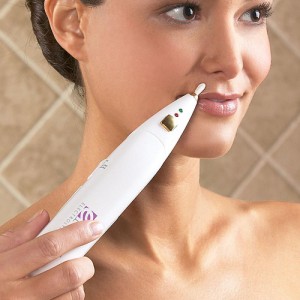 Traditionally, laser hair removal has always been the most effective on dark hair. With the onset of newer, more advanced laser equipment, there is a small chance that laser hair removal can be slightly beneficial even to those with light colored hair, which includes blonde, white and red hair.
In order to understand why light colored hair is difficult to treat, one must understand how laser hair removal works. The laser energy is attracted to the melanin in the hair. Light colored hair does not contain much melanin and, therefore, does not respond well to treatments. Light colored hair is likely to grow back unaffected after a laser hair removal treatment. However, some hair that is light colored could actually contain enough melanin to be treatable, and this is why laser hair removal treatments are not completely out of question for those with light colored hair.
While many laser practitioners firmly believe that laser hair removal only works on dark hair, there is a small amount of people who believe that those with light colored hair do have options. Some claim that the Alexandrite laser hair removal systems, which include "Candela GentleLase", "Cynosure Apogee" and the "Epitouch", can be effective on blonde and white hair. And a new hybrid technology called ELOS (Electro Optical Synergy) which is used by the Syneron hair removal systems, and combines laser or light energy with radio frequency, is also believed to be effective by some. Lastly, the "Epilight" device, which uses IPL and not laser, has also been said to have a small benefit in removing light colored hair.
Some claim that a dye can be applied to the hairs that will be treated, which can make the laser hair removal session more effective. The most talked about product in this case is "Meladine" which is a melanin enhancer solution that colors the hair follicle with natural melanin. Meladine is meant to aid the laser in targeting the hairs better, and thereby help clients with light colored hair to benefit from laser hair removal. Though dying the hair could be worth a try, many practitioners have already tried it, and agree that it is of little to no benefit in the process of laser hair removal. Electrolysis is sometimes the only option left in treating stubborn light colored hairs.
Overall, treatment of light hair cannot be expected to be as effective as treatment of dark hair. To find out if your light colored hair can be removed by laser hair removal, go for a complimentary consultation, where the practitioner can evaluate your hair type and discuss your specific options.
Photo via micaelcyancy