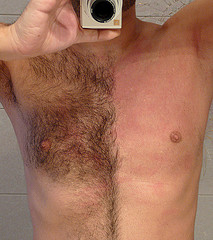 Laser hair removal works by producing heat that burns and disables the hair follicles. This heat is what can make the procedure uncomfortable or even painful. And this is why many people who consider this method are looking for a machine that might be less painful. The overall answer to the question on whether some laser hair removal machines are less painful is yes, some machines are definitely less painful than others, but there are a few other things to keep in mind.
First and foremost, it is important to note that the key to success in laser hair removal is in using the laser type that is the most suitable considering the hair and skin type of the client. Once that is established, one can explore and research different machines. While pain is of big concern to some prospective laser clients, focus should be on receiving an efficient treatment, because there are measures one can take to ease the pain. And while it is true that different laser types can cause varying degrees of pain or discomfort on the same person, it is important to identify the right laser type first, and this can be done by going on a consultation.
The pain from a laser hair removal treatment is often directly related to the specific laser machine that is being used. However, the very same laser type can be manufactured by different companies. One example is the Alexandrite laser which is available as both Candela GentleLase and the Cynosure Apogee. What this means is that all laser hair removal machines that use a certain laser type are not the same. Some laser machines are simply better and more comfortable than others.
In general, newer laser hair removal machines are less painful than older ones. This is because the newer ones use better technology than previous versions; they are more refined and sophisticated. A laser type that has reputation for being one of the least painful lasers is the Diode laser, which comes under the names "LightSheer" and "LightSheer Duet". Both machines have a built in "ChillTip" that provides continuous cooling of the skin for minimal discomfort.
It is understandable to be concerned about pain when it comes to laser hair removal, but it is essential to make sure that one is receiving an efficient treatment. Low settings just to avoid the pain is not optimal. In that case, it would be better to focus on pain relief, as in taking a painkiller prior to treatment or applying numbing cream. Another thing to remember is that pain is individual, what hurt on a friend may not hurt on you and vice versa. A good way to see what the potential pain will be like is to do a test patch at a laser hair removal clinic. If the pain is found intolerable, one can request to try another laser machine or even go to a different clinic.
photo credit