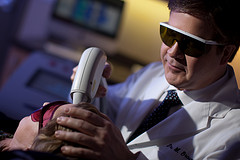 Considering how frequently we remove our unwanted hair, the cost of doing so can definitely add up. Most hair removal solutions have a cost associated with them, and having to spend a lot of money on this often unlikable task can get frustrating. Finding an affordable, yet efficient, solution is a goal for many of those who suffer from having excess facial or body hair. Knowing what the costs of the different options are will help to choose the most economical hair removal method.
Laser hair removal can seem expensive at first, but once the cost of temporary methods have been added together, the cost will seem more appealing. IPL (Intense Pulsed Light) and electrolysis can also come off as pricey at first, but the potential pay off can be big. Laser hair removal aims to permanently reduce hair by treating the area with a handheld device, which will destroy the hair follicles. A similar concept goes for IPL and electrolysis. Hair grows in three different stages so a minimum of three treatments is a must. The cost of each session will depend on many different factors, such as geography, how expensive the clinic in question is and which body area is being treated. For example, a smaller area such as the upper lip will be much faster and therefore cheaper, than the entire back. The cost for IPL and electrolysis will also depend on the same factors.
The price of waxing at a salon is probably one of the most expensive hair removal methods considering that it is not a permanent solution and that hair will grow back. The hair that has been removed by waxing will grow back in two to three weeks and the treatment will need to be repeated. Epilators, handheld electrical devices that pull out the hairs, can be a good investment for hair removal, but the hairs will grow back just as with waxing. With depilatories, hair removal creams and sprays, the hair will grow back and product will need to be purchased again. Shaving seems very inexpensive at first, as razors can be found for just a few dollars, but the procedure needs to be repeated so frequently that the cost will certainly add up. Plucking only requires a tweezer, which also can be found at cheap rates but is very impractical for larger areas.
The most cost efficient hair removal methods are the ones that offer some sort of permanent reduction, such as laser hair removal, electrolysis and IPL. Even if they seem expensive at first there will be long term savings as hair will rarely need to be treated once the treatment schedule is completed, and hopefully not at all. While nobody can guarantee permanent removal of all hair, a partial or long term absence of hair can definitely save time, and especially money.
Image credit