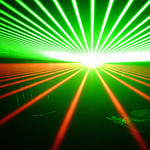 Laser hair removal is often too expensive for the average, everyday shopper. While the Silk'n Flash and Go may not sway their opinion too greatly, it is a very attractive product.
The Flash and Go's compact size and higher number of pulses makes it an excellent improvement over previous at-home iterations.
The price for an at-home laser is still very expensive. Right now, the Silk'n Flash and Go costs about $300, which isn't that much cheaper than the most popular brands of at-home lasers. However, the Flash and Go carries plenty of advantages over the old Silk'n SensEpil.
For starters, the Flash and Go has a lamp cartridge that carries 1,000 pulses of light. The lamp has 250 more pulses than its predecessor, the Silk'n SensEpil. This means that the Flash and Go can operate for a much longer time than before.
The laser is geared for a different type of hair removal, though. The 4-centimeter treatment window of the Flash and Go is smaller than the 6-centimeter window of the SensEpil. Thus, the Flash and Go is better suited for facial treatments below the cheeks, which require a much more narrow light range. It is also small enough to remove hair from hard-to-reach areas.
The device itself is in a much more compact size, making it much easier to store in the house or on a long trip. The design of the laser itself is also a lot more attractive. The laser lamp is shaped like a handheld barcode scanner, which looks more effective than the bulky lamps of other brands.
Best of all, at-home laser operations take much less time than ever before. The Flash and Go can emit one pulse of light for every 3.5 seconds. This is 1.5 seconds faster than the leading brand of at-home lasers. This means the each hair removal session for the Flash and Go is much quicker than it would have been with other lasers.
There is one problem with the Flash and Go, though. It works most effectively for people with lighter skin. Lasers developed by Silk'n tend to burn darker skin much more easily. Thus, the laser's hair removal ability is limited to only a certain group of people with lighter pigments of melanin.
This device is still a big overall improvement for laser technology, though. While each machine is still very pricey, it definitely offers the best value for a persons buck. Each Flash and Go packages comes with two lamp cartridges. Thus, each initial package contains more pulses than ever before.
The Flash and Go could be one of the best at-home lasers thus far. Although the technology is costly, this is a very compact brand that will appeal to customers on a budget. $300 is a small price to pay for this superior at-home laser brand.